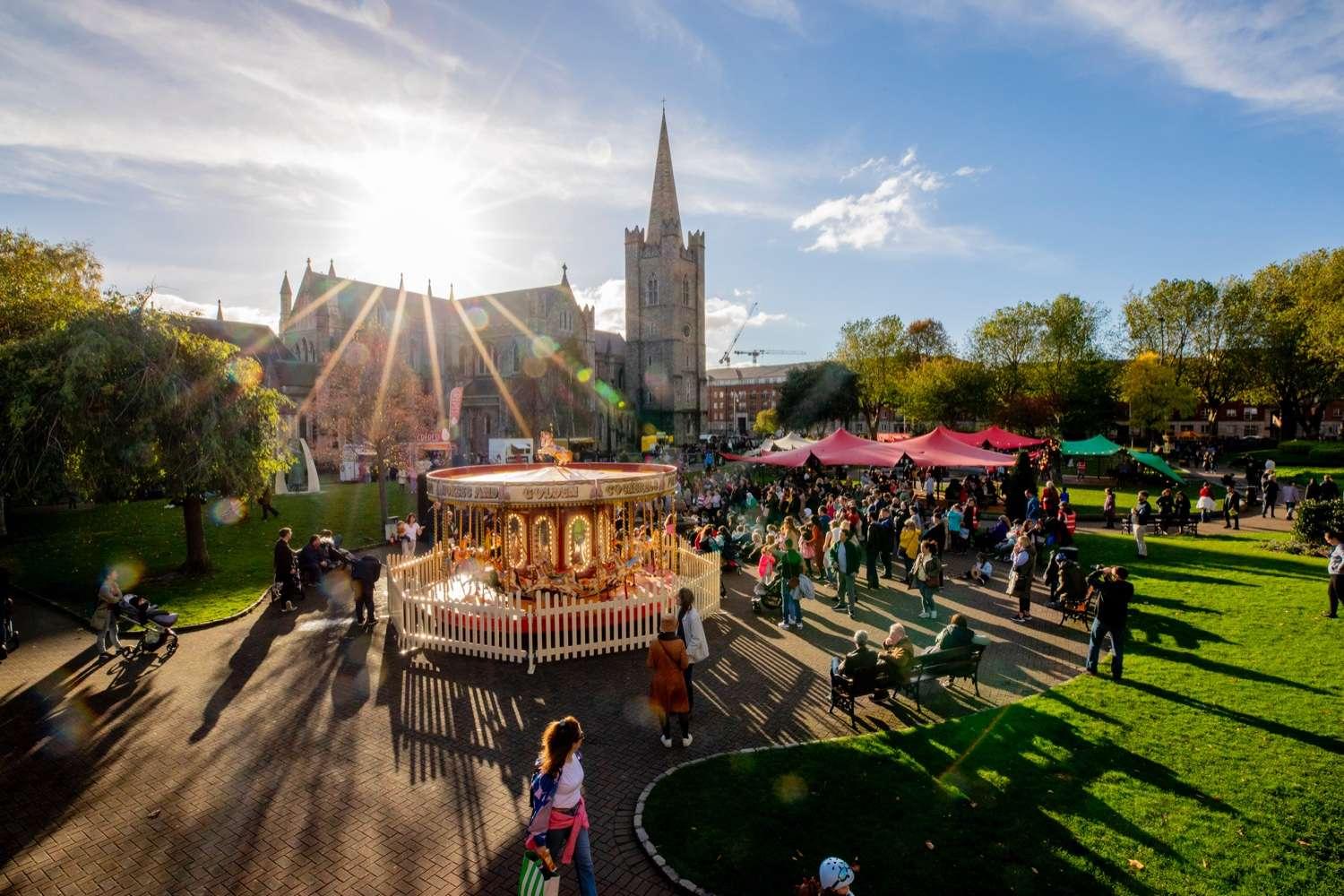 Dublin City Council Bram Stoker Festival Guide – Saturday
10.00am – 12.15pm 
Trinity Trails: Bram Stoker Tour
Embark on a guided tour through Trinity College Dublin, exploring the legacy of its literary giants. Journey through the grounds of the Trinity campus, walking in the footsteps of Bram Stoker. Learn about Stoker's place within the tapestry of the university's literary history, which includes Oscar Wilde, Jonathan Swift, Samuel Beckett, and Sally Rooney.
10.00am – 5.00pm
Spooky Stories at Marsh's
Marsh's Library invites guests to wander the darkened galleries where books of witchcraft, martyrdom and heresy are to be found. Prepare to be enthralled as the library's knowledgeable staff recount spine-tingling anecdotes from its intriguing past in a setting almost entirely unchanged since Stoker's visit.
11.00am – 4.30pm 
Stokerland
Roll up, Roll up and enter Stokerland, a free, pop-up Victorian fun park for families and the eternally young. Now an annual festival highlight for Dubliners of all ages, it's the perfect family-fun-day out this October Bank Holiday weekend in Dublin.
With the stunning cathedral as a gothic backdrop, this ghoulish gathering features street theatre, a performance tent, free face-painting, a food market, Victorian funfair rides, macabre thrills and ghoulish games for everyone to enjoy.
1.00pm – 2.00pm 
Three Castles Burning Live – Bram and Beyond: The Irish Supernatural
In this special live edition of the Three Castles Burning podcast, historian Donal Fallon is joined by author and publisher Brian J. Showers of Swan River Press and the actor Kathy Rose O'Brien.
They'll delve into the works of Joseph Sheridan Le Fanu (of course), Katharine Tynan and Dorothy MacArdle, among others, and explore their links to Stoker and the Dublin of his time.
This event takes place at the Graduate Memorial Building in Trinity College, home to the College Historical Society (The Hist) of which Stoker was auditor of in his day. The Hist was recently recognised by the Guinness Book of Records as the oldest student society in the world. 
1.30pm – 4.15pm 
'A world full of miseries, and woes, and troubles': Life, Disease and Death in Collins Barracks.
Join a free tour with Museum guides to discover the chills, ills, and kills in Collins Barracks' 300-year long history.
Find out about the trials and tribulations of life as a soldier living in the Barracks from the 1700s until the late 1900s, with a focus on (ill) health, as well as the transition from one of Europe's oldest occupied Barracks into one of Ireland's National Museums.
2.00pm – 4.45pm 
Time To Vote, Warmbloods: Vampires Question Modern Art
On this comedy tour, your vampiric guides will present you with a range of modern works and old familiars, and seek your help in finally answering: "Do the Vampires Approve?"
Join Underthings, an improv and sketch duo, for this tour with a twist exclusively at Bram Stoker Festival.
2.00pm – 5.00pm 
Dissecting Dracula with Dacre Stoker
Join Dacre Stoker, internationally-acclaimed author and great grandnephew of Bram Stoker, the literary maestro behind the timeless classic, Dracula. At this interactive literary workshop, you'll unlock the secrets of Dracula's creation, dissecting rare, replica papers borrowed from esteemed libraries and archives worldwide.
4.00pm – 5.00pm 
Criminal Insanity: Bram Stoker and the Inmates of Millbank Prison
A fascinating journey into prisons, asylums and other places of confinement haunted by Bram Stoker.
Join Dr. Jason McElligott, Director of Marsh's Library, for this captivating lecture; a deep-dive into the murky, real-life people and places which informed Stoker's masterpiece. 
6.30pm – 8.07pm 
Slaughterhouse Present: Faust (1926) Re-Scored by Shampain
Dublin-based horror film, art and music club Slaughterhouse have been packing out unusual venues across the city with sold out screenings for the last year. From warehouse spaces and tattoo parlours to wine bars and plant shops, they're giving cult horror classics fresh life with live re-scores, discussions and art exhibits inspired by the films and are upping the ante once more for Bram Stoker Festival.
6.45pm – 7.50pm 
Revenant 
Revenant is a visceral, frightening theatrical experience, marrying elements of horror and suspense with deliciously dark comedy in a reflection on the choices we make in pursuit of success.
For more information visit https://www.bramstokerfestival.com/schedule/