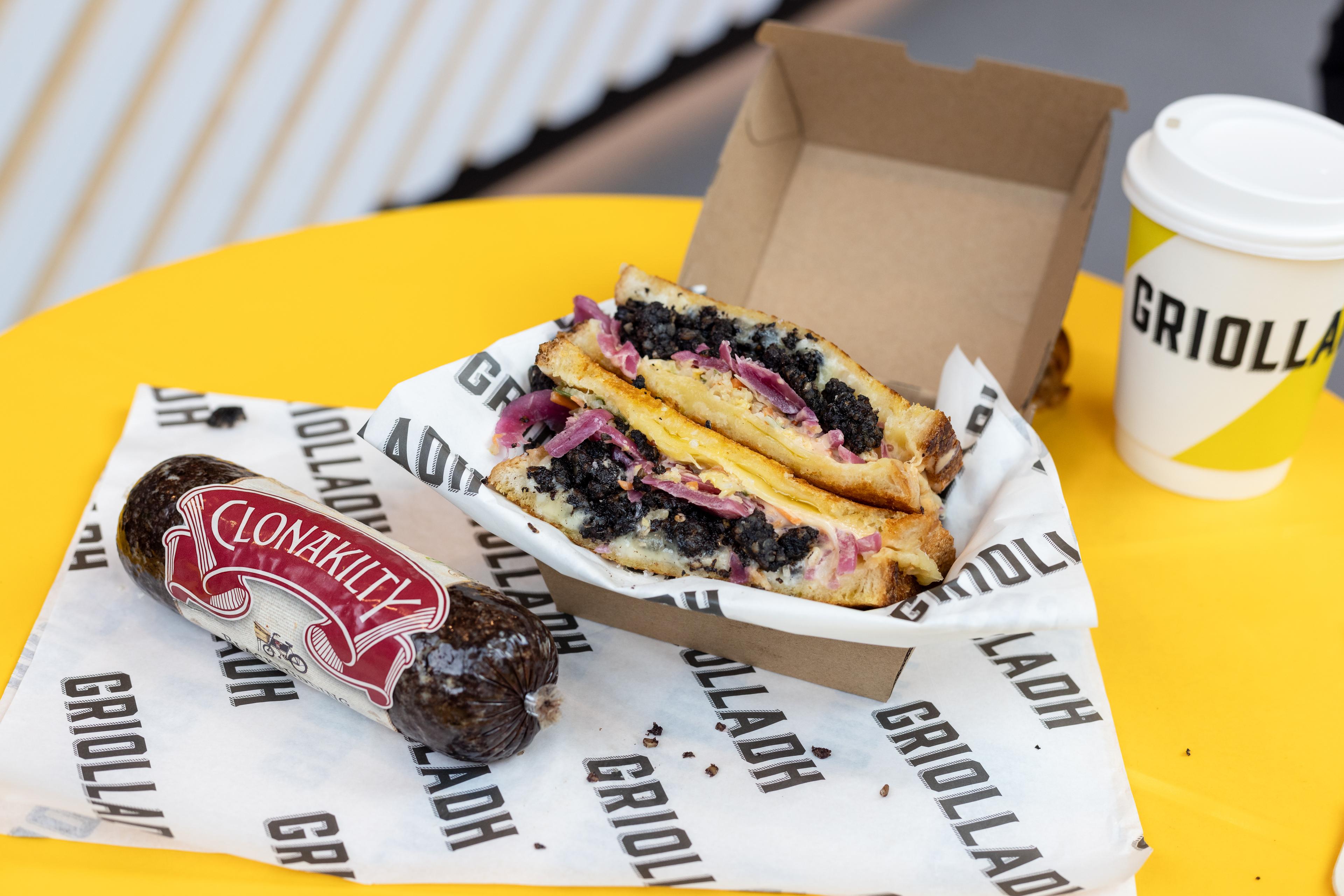 Griolladh Launch New Limited Edition Toastie
Clonakilty Food Co., makers of Iconic Irish brand Clonakilty Blackpudding, are delighted to announce that adored lunchtime hot-spot, Griolladh have created a limited-edition Clonakitly Blackpudding toasted sandwich.
Marking the sandwich experts' arrival in the Rebel county, Clonakilty Food Co. and Griolladh have come together to combine their love of food and quality ingredients to produce the ultimate lunchtime treat. Throughout the month of November, you can enjoy the distinct flavour of Clonakilty's world-famous black pudding in a delicious Griolladh toastie.
Clonakilty Blackpudding is Ireland's most-loved black pudding. Its secret spice mix has been carefully passed down through generations of butchers for over 100 years and is guarded today by Clonakilty Food Co. owner, Colette Twomey.
The CORKER will include grilled organic sourdough, Griolladh's signature cheese blend, Clonakilty Blackpudding, marinated red onion, seasonal slaw and the secret sambo sauce. Clonakilty Food Co. and Griolladh are united in their passion for creating delicious, high-quality food using only the best possible ingredients. This passion is evident in the incredible creation they have produced together. Both fans of a mysterious recipe, Clonakilty's secret spice mix and Griolladh's secret sauce blend together to create something exceptional. Fans of both Clonakilty Blackpudding and Griolladh are in for a treat.
Speaking about the collaboration, Colette Twomey of Clonakilty Food Co. said: "We are delighted to welcome Griolladh to the Cork food-scene. We love showcasing all of the ways in which Clonakilty Blackpudding can be enjoyed and this delicious black pudding toastie is a perfect example. This is an exciting collaboration for us and we hope you all enjoy the result." Jacob Long, Griolladh Co-Founder, said: "With Griolladh opening in Cork we wanted to celebrate the County's amazing food producers and couldn't think of anything better to add to our toasties than Clonakilty Blackpudding. We wanted to highlight its unique flavours while putting our own twist on it and showing that it is not just for the fry."
The CORKER is available exclusively from Griolladh's three Dublin locations in Thomas Street, Arnotts and One Central Plaza as well as the two new Cork locations in Douglas Village Shopping Centre and The Marina Market. The collaboration will be available for a limited time only so make a beeline for your closest Griolladh to try it before it is all gone.